"Team Cobra" to represent state at GlobalHack next month in St. Louis, Missouri
HONOLULU – (RealEstateRama) — Solutions tackling state challenges involving homelessness and jail facility visitation received top honors at the Hawaii Annual Code Challenge (HACC) Judging and Awards Ceremony, held today at the Aloha Tower Marketplace.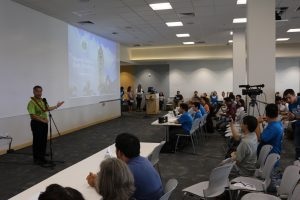 The event was the culmination of the month-long, hackathon-inspired competition designed to engage the local tech community in the modernization of Hawaii state government.
Twenty-seven teams presented solutions to the HACC judges panel, which consisted of Gov. David Y. Ige; Sen. Glenn Wakai; Todd Nacapuy, state Chief Information Officer (CIO); Garret Yoshimi, vice president of IT and CIO, University of Hawaii; Camille Au, director, Desktop Services, Hawaiian Electric; Bill Hozey, business sales managing partner, Hawaii and Alaska, Verizon; and Donna Scannell, VP of IT operations and business information officer, Kaiser Permanente. Solutions were judged on originality, design, sustainability, utility and impact, team collaboration, presentation and delivery, and bonus points for "audience's top choice."
The winners were as follows:
1st Place — two-way tie! (each team receives $4,000 and will also have the opportunity to interview with Blue Startups and XLR8UH)
Team: Team Cobra
Challenge Category: Homelessness (a challenge presented to HACC participants by Scott Morishige, state coordinator on homelessness)
Team Members: Arun Lee, Jayson Lee, Kyle Loo, and Kim Vo
NOTE: Team Cobra was also selected to represent the State of Hawaii at GlobalHack, being held from Oct. 21 to 23, 2016, in St. Louis, Missouri.
Team: Hawaii Advanced Technology Society (HATS)
Challenge Category: Oahu Community Correctional Center Visitation Scheduling (a challenge presented by the Department of Public Safety)
Team Members: Andrew Abila, Gerome Catbagan, Edward Chang, Kenneth Dedicatoria, Samuel Erwin, Gabriel Farinas, Jayson Hayworth, Neil Knight, Robert Kuakini, Ben Lamosao, Duong Le, Dylan Nakahodo, Willam Ng, Rodgem Ragsac, Phillipe Rigor, Christine Rioca, Kevin Ryan, Bryan Tanaka, and Sharey Vendiola
3rd Place ($2,000)
Team: Local Mocos
Challenge Category: Made in Hawaii (a challenge presented by the Department of Agriculture)
Team Members: Jesse Copeland, Nikki Kobayashi, Javen Nakamoto, Bryce Saito, Steven Yamashiro, and Lisa Zhou
1st Place in Student Category ($1,000 and the opportunity to interview with Sultan Ventures)
Team: Team Imua (from Kamehameha Schools)
Challenge Category: Open (application assisting local high school students with preparing for college)
Team Members: Sage Foi, Davin Takahashi, Kevin Takahashi, and Zion Basque
At the HACC kickoff event on Aug. 27, more than 200 individual coders and innovators answered the call to apply their collective creativity to improving state government. Participants formed teams and selected from diverse challenges presented by state officials and personnel, to tackle over the next several weeks. Among the presenters were state Coordinator on Homelessness Scott Morishige and staff representing the Departments of Accounting and General Services, Agriculture, Health, and Public Safety, and others.
The HACC teams returned today to present their solutions for judging and selection of winners. In addition to awards, one team, Team Cobra, was selected to represent the State of Hawaii at GlobalHack. For more information on GlobalHack, visit: https://globalhack.org/
The HACC is the result of collaboration across public and private sectors. In coordinating the event, the CIO-led Office of Enterprise Technology Services (ETS) partnered with the Hawaii Technology Development Corporation, DevLeague, Empowered Presentations, Hawaii Open Data, Blue Startups, Sultan Ventures, and XLR8UH. Award prizes are being underwritten by sponsors such as Hawaiian Electric, Kaiser Permanente, KPMG and Verizon. Additional support is being provided by DataHouse, eWorld Enterprise Solutions, Socrata, Uber, Unisys, DRFortress, and Hawaiian Telcom.
For more information on the HACC, visit: http://HACC.hawaii.gov